A New Era of Emergency Response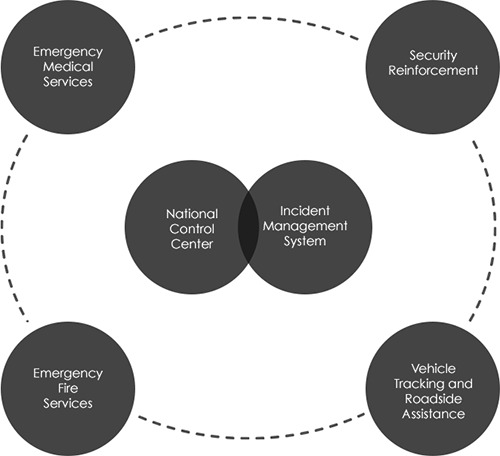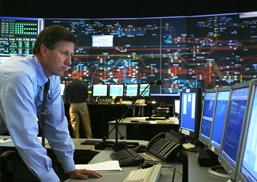 National Control Center (NCC)
XFOR has introduced a new National Control Centre in Kenya as the central point of contact for all emergency response services offered by XFOR. Using state of the art technology, XFOR's NCC is manned 24 hours a day, 365 days a year, monitoring all operations country-wide from a central location. This enables XFOR to react swiftly to any emergency situation and in turn, ensures continued peace of mind for our clients needs.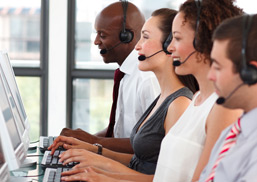 Incident Management System
The personnel working in XFOR's National Control Centre (NCC) are trained to handle emergency situations and to manage crisis' professionally. They are able to react quickly and calmly to any situation they encounter. In addition, XFOR's NCC has fully licensed and trained paramedics available 24 hours a day. This allows for quick medical dispatch at any time and offers free medical consultation before the ambulance arrives. All of our NCC operators are fluent in both English and Kiswahili to enable successful command in all circumstances.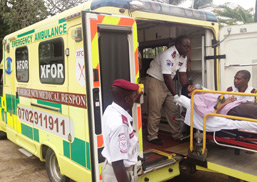 Emergency Medical Service (EMS)
XFOR provides the best emergency ambulance service in Kenya. With our fully equipped ambulance imported directly from the UK, we are able to respond to an emergency in less than 10 minutes time. Our ambulance is staffed with fully licensed paramedics and first aid certified drivers who are sufficiently capable of offering pre-hospital care and will ensure a safe arrival at the hospital of your choice. XFOR can also organize long distance hospital transfers across Kenya which will be accompanied with a full team of professional licensed paramedics for the duration of the journey.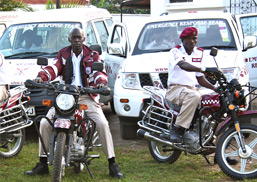 Security Reinforcement
Inside of our National Control Centre (NCC), XFOR has installed innovative technology imported directly from the UK. VHF channels and CCK licenses are a thing of the past, as XFOR now has the most advanced Emergency Response system in Kenya. This system is able to locate the exact zone where an alarm is activated. It allows our personnel to view CCTV's remotely and it enables a quick reaction of our Emergency Response Team, consisting of four highly trained officers and a security dog, to the exact specified location.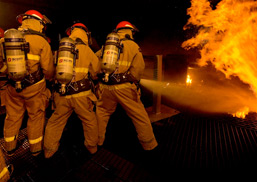 Emergency Fire Service
One of XFOR's newly developed services is to provide fire protection and prevention services to our clients. All of our highly trained Emergency Response Fire-fighting Teams come fully prepared with the equipment necessary to extinguish fires as quickly and as safely as possible. XFOR's fire-fighting personnel are also trained to ensure the immediate security and safe evacuation of all personnel in the area under risk. This Emergency Fire Service is included in XFOR's alarm response package.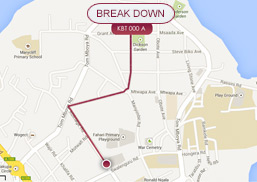 Vehicle Tracking & Roadside Assistance
With XFOR's aim to bring advanced and innovative technology to the security sector, our Vehicle Tracking & Roadside Assistance service is no exception. XFOR provides full installation of vehicle tracking devices, complete with panic buttons that dial directly to our National Control Centre. Our installed hands free kit can enable our clients to pass critical information to our NCC quickly and efficiently. In the event of a stranded vehicle or a recovery situation, XFOR has a fleet of vehicles across Kenya that can be quickly dispatched to an exact location in order to assist the situation and get our clients moving again.